Our clinic is located on the corner of Bower and Rookwood Avenues, North New Brighton. We're at the eastern (seaside) end of the QEII Medical Centre.
Our premises are temporary since the February 2011 earthquake. We have plans upgrade our premises within the same site in the near future.
Getting here by public transport
We are on Metro bus route 60 and also route 80, both operated by Go Bus Ltd.
The nearest bus stops are very close:
stop 20576 on route 80, going North on Bower Avenue
stop 20759 on route 80, going South on Bower Avenue
stop 39438 on route 60, going East on Travis Road just before Rookwood/Bower Avenues
stop 39455 on route 60, going West on Rookwood Avenue just before Travis Road / Bower Avenue.
On site details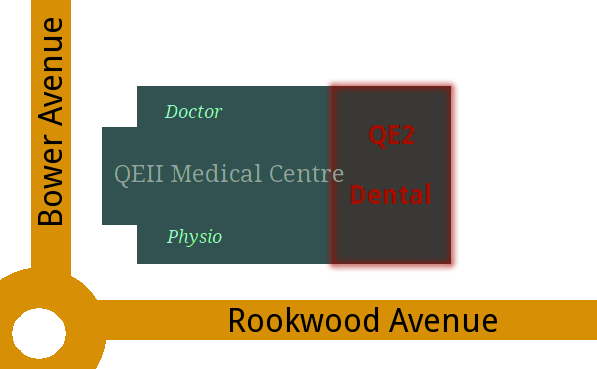 Parking
Vehicles can park behind the QEII Medical Centre building, entering off Bower Avenue north of the roundabout.
Bicycle parking is available near our front door.
Wheelchair access
As we are in temporary premises, please advise us if you need to enter using a wheelchair or mobility scooter. Our upgraded premises will have fully compliant and permanent accessible access.